Information channels surrounding your child are very fragmented. Do you recognize this? Your child goes to school, nursery or afterschool care, follows sports and music lessons and may go to speech therapy / physical therapy and more. All these professionals are involved with your child based on their expertise and passion. You are kept informed by all parties about the development of your child.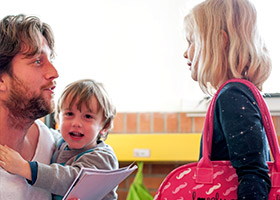 But sometimes you miss the overall picture because of all the emails, letters, voice mails and phone calls. Quebble helps you to bring together all the communication about your child in one place. You keep easy contact with professionals selected by you through the digital personal daybook. You do this whenever you want to do it and with whom you want to do this. Better communication leads to more transparency and can significantly increase involvement in the life of your child outside your home.
Start with Quebble today! It is safe and free!